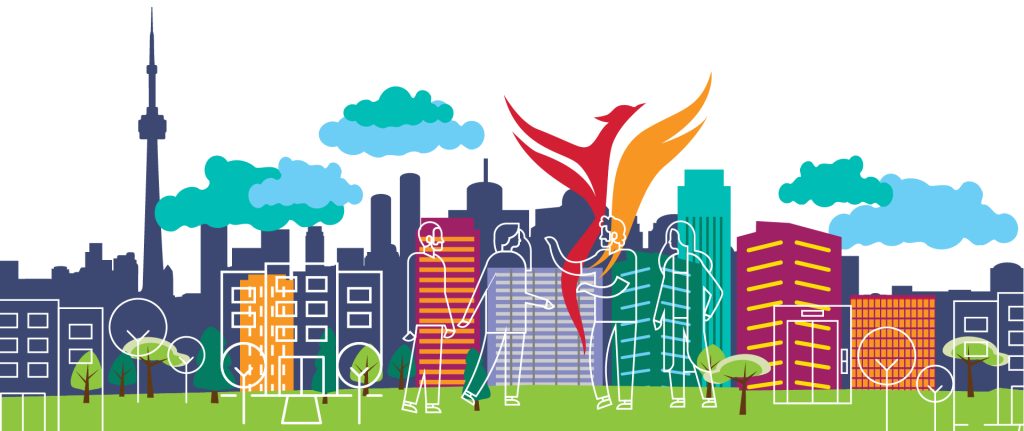 Join Our Community Climate Action
Online Public Innovation Forum
March 28, 2022, 5:00 to 6:30pm EDT
Registration is open until March 28 at 2pm EDT
Join the forum to hear from featured speakers about community climate action and highlights of our one-year journey of discovery since March 2021!
For context, over the past year, with funding in part by the Government of Canada, we have collaborated with people and organizations within and connected to St. James Town to create more awareness and build capacity to meet the challenges posed by climate change – including everyday essential needs of residents and workers: food, shelter, job security and emergency preparedness.
We also widened the lens to inform and engage a cross sector of senior stakeholders from across the City of Toronto, Canada and abroad, to discover systemic and scalable solutions for building more resilient urban high-rise communities, with and by community members – beginning with St. James Town.
Rethink Sustainability Initiatives (RSI) has been leading this project in partnership with Trinity Life/The New Common to unlock and build on the work that people in the community started.
Learn more — Come to the Public Innovation Forum on March 28, 2022, from 5:00 to 6:30 p.m.
---
Featured Speakers:
Julie Dabrusin MP
Parliamentary Secretary to the Minister of Environment and Climate Change
Councillor Kristyn Wong-Tam
Ward 13, Toronto Centre
Michael Seaman, PhD
Head of Trinity Life and The New Common in SJT
Madelyn Webb
Climate Education and Communications
Julia Baranovsky
SJT Community Volunteer and Resident,
RSI Playbook Design and Production Manager
Yasmin Glanville, Founder
and Darla Campbell, Board Chair
Rethink Sustainability Initiatives Inc.
Moderator:
Aidan Grove-White
Director, StrategyCorp and RSI Board Director
---
Agenda (times are approximate):
4:50pm – 6:30pm EDT
4:50 pm – Sign-in to join the Forum
5:00 pm – Welcome and Opening Remarks; CCA Project Recap – Looking Back. Moving Forward.
5:08 pm – Councillor Kristyn Wong-Tam – A Local Perspective on Climate and Community Resilience
5:30 pm – A Moderated Panel of Key Insights for Taking Action on Climate with Michael Seaman, Yasmin Glanville, Madelyn Webb and Julia Baranovsky
6:00 pm – Julie Dabrusin, MP – Parliamentary Secretary to the Minister of Environment and Climate Change Canada
6:17 pm – Closing remarks and Announcements by Darla Campbell, Chair of RSI
6:30 pm – Wrap-up
---
About Rethink Sustainability Initiatives (RSI)
Rethink Sustainability Initiatives is Not-for-Profit "think and do" organization that engages, advises and partners with thought leaders, innovators, and organizations to advance the sustainability and resiliency of businesses, institutions and communities to thrive into the future. We provide access to progressive leaders and actionable insights for Canadians and our global partners through formal and informal discussions, community projects, action learning accelerators, digital and print publications and education.
Website: www.rethinksustainability.ca


Our Partners:
Trinity Life and The New Common
Trinity Life is a non-profit, faith-based organization serving Toronto to create healthy communities through collaboration. The New Common is an organization started through Trinity Life that seeks to empower communities in domain engagement through asset-based community development. Over the past eight years, Trinity Life has served to empower and push forward community development efforts in Regent Park and in St. James Town.
Website: https://trinitylife.ca/the-new-common; https://thenewcommon.org/