On March 28, 2022, the Rethink Sustainability Initiatives' (RSI) Community Climate Action (CCA) project held our final event to present our findings with regards to our one-year project, started in March of 2021. This initiative was funded in part by the Government of Canada.
RSI founder Yasmin Glanville provided an overview, outlining the work that the CCA project has accomplished over the past year. This includes training St. James Town (SJT) community members as Climate Ambassadors, action-biased mentorship on workforce development, food security, leadership and entrepreneurship, emergency preparedness, and funding. And broadening connections and insights from recognized experts and organizations in the City of Toronto and across North America and Europe.
All of this and more is captured in the CCA project's new Playbook entitled, "The Journey of Discovery in St. James Town – a Playbook for Community Climate Action in Urban High-Rise Communities." Now available online, it shows realistic and actionable solutions that can serve both SJT and be a blueprint for other communities looking to enact climate action around the world.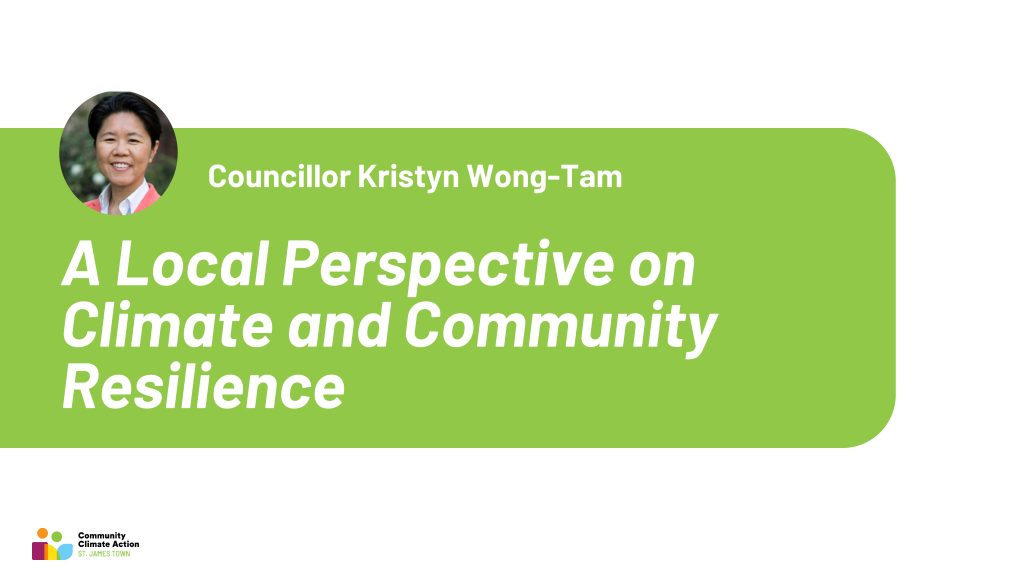 Our first guest speaker, Toronto Councillor Krystyn Wong-Tam, talked about current efforts on climate change and community action. The Councillor also celebrated the work that RSI's Community Climate Action in SJT has accomplished in such a short time.
St. James Town is one of the most dense urban environments in all of Canada, with about 25,000 individuals, and it's growing within a very limited radius. The Councillor is also optimistic that the RSI-CCA project and others like it will transform this community into an epicentre for climate action, innovation, and prosperity.
St. James Town is now officially transitioned and recognized by the City of Toronto as a Neighbourhood Improvement Area (NIA). This means there should be more opportunities for growth and development. Pioneered by Councillor Wong-Tam, there is now a strong Neighbourhood Strategy underway, aiming to provide food security via a food hub for locals. This new food hub will be independent from other endeavours such as food banks.
Councillor Wong-Tam also suggested that people show up to organized events like this Forum, to become a part of the change. People need to have their voices heard.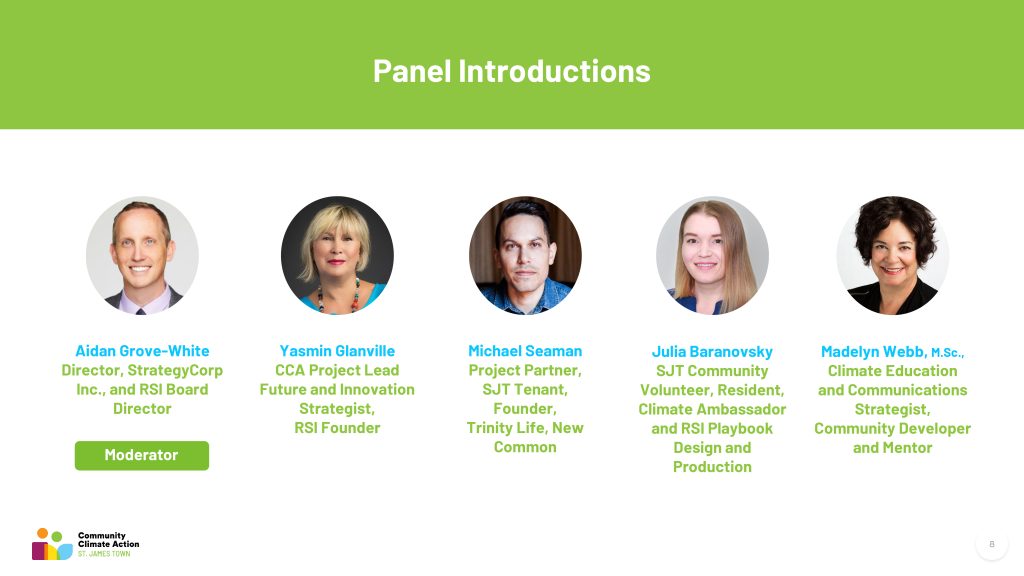 Aidan Grove-White, a Director at StrategyCorp and an RSI Board Director, moderated a multi-perspective panel with a few of the key individuals who helped develop and propel this project forward: Yasmin Glanville, Dr. Michael Seaman, Madelyn Webb, and Julia Baranovsky.
The primary focus of the panel centered on what makes the CCA project unique–our Climate Ambassador Training, Knowledge Hub, community collaboration, empowerment, and building resilience. And how SJT is a growing and thriving community with tremendous talent and potential. Propelled by youth, our future leaders, awareness of climate action connected with enhancing the quality of life for people and the resiliency of the built environment, the opportunity for growth is substantial. The panelists concluded, saying they can't wait to see all the amazing changes that will take place over the coming years.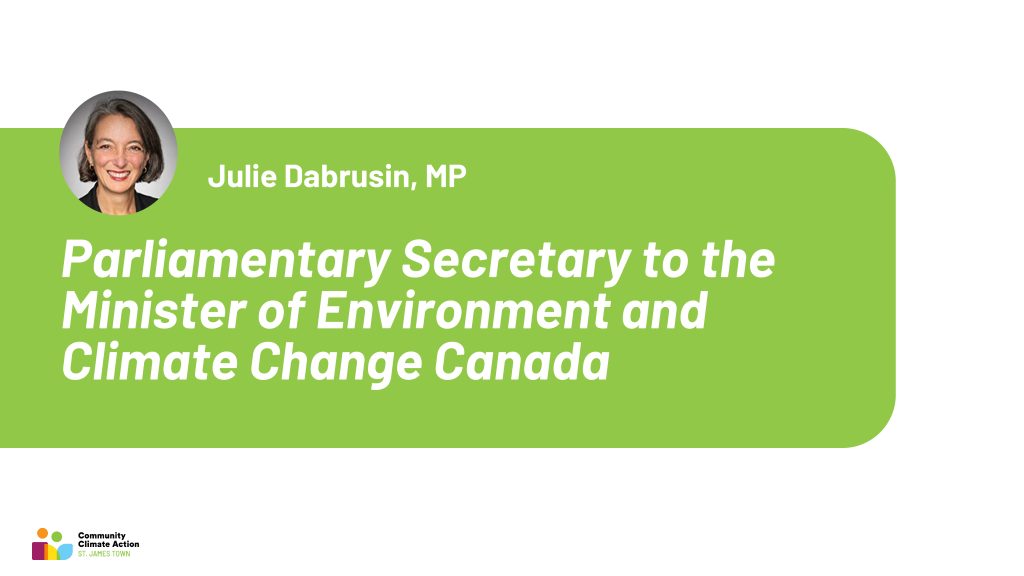 After hearing from each of the panelists and their perspectives surrounding the project, Minister Julie Dabrusin, the Parliamentary Secretary to the Minister of Environment and Climate Change Canada, talked about climate change and the importance of our collective actions.
Dabrusin's talk highlighted how more frequent and extreme weather changes have contributed to numerous deaths, due in large part to heat waves, as well as the damage of uncontrolled flooding and how disruptions to power have occurred due to extreme weather events.
The Minister also highlighted how high-rise communities like SJT are most at risk when it comes to these extreme weather events. And how important projects like RSI's Community Climate Action in SJT are, because of their ability to enact actionable change at the grassroots level. Dabrusin said that the RSI Community Climate Action in St. James Town project will serve as a model for other communities both locally, across Canada, and abroad. She is confident that CCA's solutions will be scalable.
Dabrusin also said that investing in these kinds of local solutions will help create a better world for us all, stating, "Climate change is not one person's problem — it belongs to all of us."
Other highlights of her talk:
The progress that Canada is making now in pursuit of its goal of net zero carbon emissions by 2040.
The cleanup of the Don River is an example of what is possible; highlighting the transformation that the river has seen over the past 50 years after being neglected as a highly toxic waterway.
The development of the Rouge National Urban Park in northeast Toronto is another example of climate change adaptation. Parks located across the City of Toronto have the potential to become healthy and hospitable ecosystems for the city as a whole.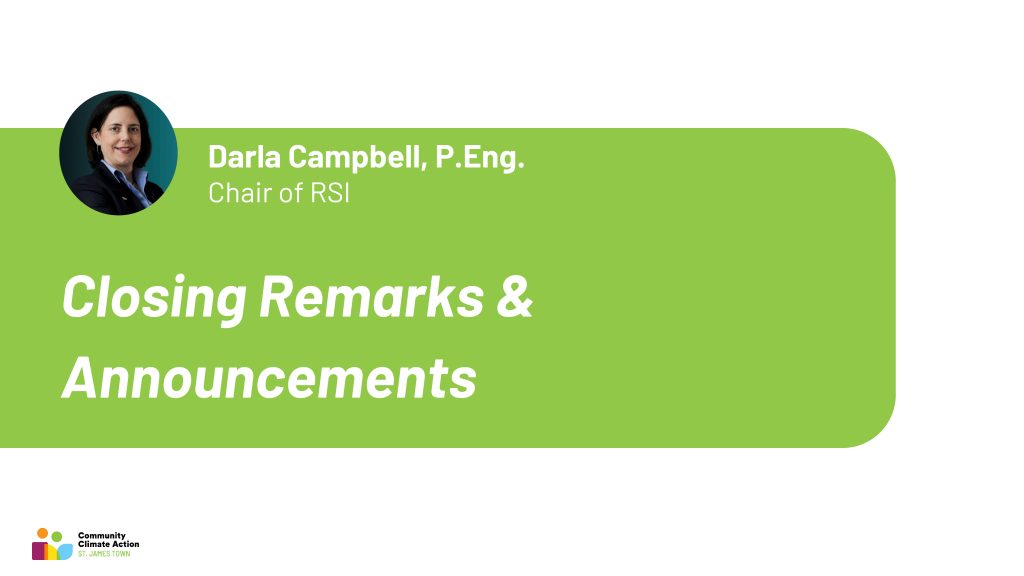 RSI Board Chair, Darla Campbell, closed the event by thanking the Environment and Climate Change Canada for funding our CCA project in part. The CCA team and partners for amplifying the importance of climate action inside and outside of with SJT and mobilizing the discovery of scalable on the ground solutions to climate change in urban high rise communities culminating in a blueprint for action–the Playbook and what is up ahead.
Campbell also announced an upcoming RSI series of Fireside Chats, to be held at noon every Thursday in May, on system solution strategies to food insecurity and supply chain issues from Farm-to-Fork sustainably.
RSI continues to be of service to the St James Town community, the City of Toronto, and the nation.