Many residents are foreign-trained professionals and newcomers who are struggling to find suitable work. Instead of waiting for an opportunity to knock, creating opportunities by starting a business is another option.
As part of RSI's Community Climate Action – St James Town-centered project – we have developed programs for Ambassador Training, individual and project mentoring, as well as professional development workshops. Collectively, they support the goal of unlocking the untapped talent of the St James Town neighbourhood.
This article captures highlights of a panel discussion style webinar: Key Lessons from Purpose Driven Entrepreneurs which took place online on September 15, 2021.
This event was facilitated by Yasmin Glanville, a seasoned entrepreneur herself, strategist and advisor, and founder of Rethink Sustainability Initiatives (RSI). Speakers shared why and how they became entrepreneurs, challenges and motivations.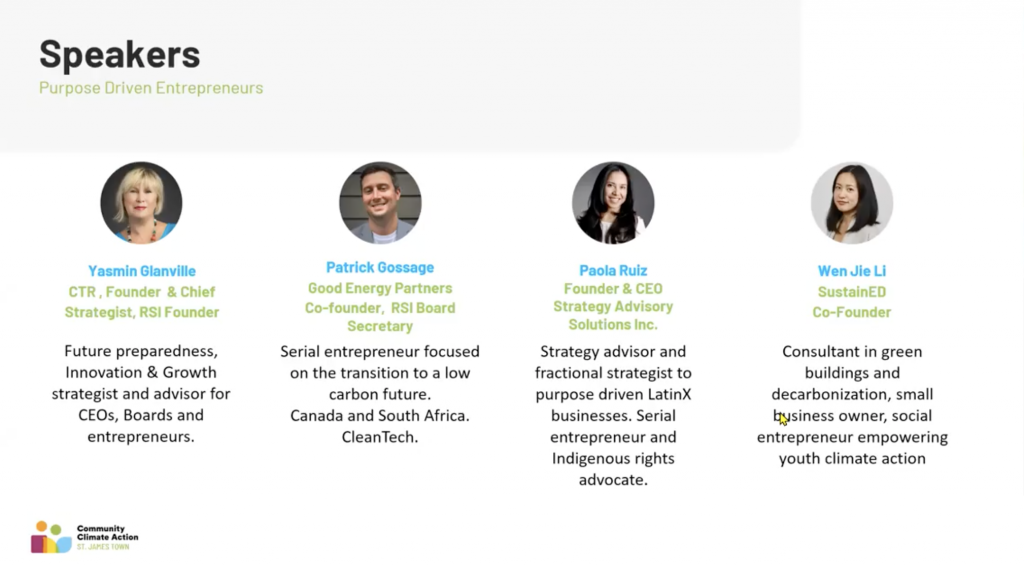 An Entrepreneur Frame of Mind
If entrepreneurship is the path for you, an early step is switching from an employee to an entrepreneur way of thinking. One key difference is the source of motivation. Entrepreneurs are driven from inside themselves, by purpose. Employees are driven by external factors.
An entrepreneur finds value based on purpose, something that personally inspires and motivates them. They likely have different and varied measures of success as well.
An employee looks outside themselves for motivation, direction as well as validation. They may measure success in more traditional ways: compensation, title, influence, etc.
Panelist Origin Stories
Wen Jie Li worked as a consultant in sustainability but felt things were not moving or changing quickly enough to meet the climate crisis, so empowered herself and students to make a difference. Along the way, she learned to run a business.
Patrick Gossage has founded several environment-oriented businesses. He found the corporate world is all about seeking manager's approval and ladder climbing. He decided to go to business school and launch a company he was passionate about.
Paula Ruiz is from a remote village in Columbia. She left home seeking education and finding purpose by helping communities like hers back home. She started a business developing solar-powered batteries. Paula was driven by a sense of accountability, purpose, mission, wanting to make an impact.
Also joining in the discussion was Madelyn Webb, Communications and Education for Community Climate Action – St James Town. Madelyn is also an entrepreneur, intrapreneur and social entrepreneur. From an early age, she was encouraged to dive into projects and urged to 'do it yourself.' Her out-of-the-box approach was not always appreciated, but she always loved new projects and was able to take advantage of opportunities in her varied career, whether inside an organization for the social good or with her own environmental business.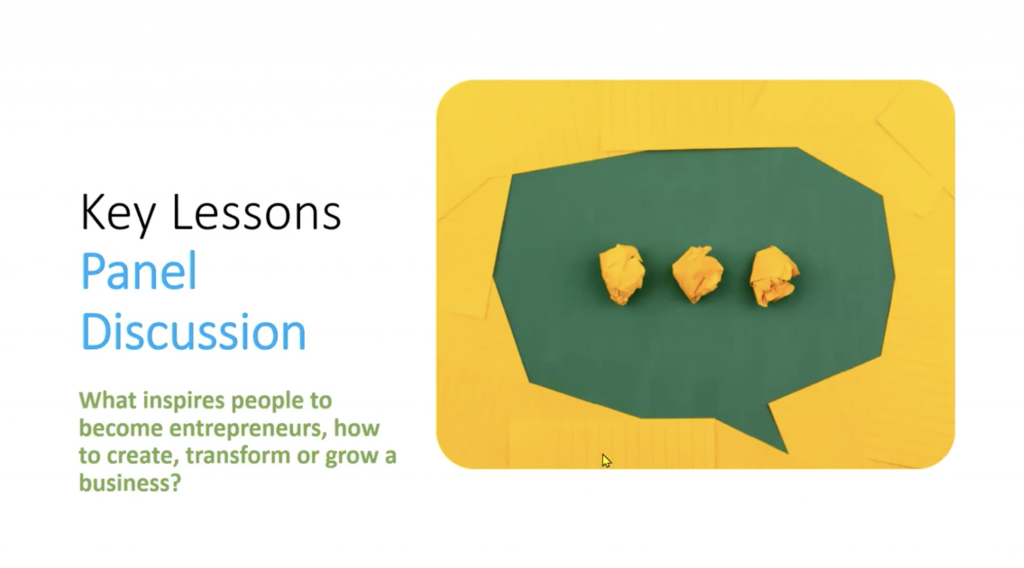 Key Takeaways
The main questions explored were
Why do people become entrepreneurs vs being employed?
What inspired you to go the path of entrepreneurship?
What helped you get started?
What challenges did you have to overcome?
What helps you the most to continue?
How do you define success now vs when employee?
Looking back, what would you have done differently if you could?
Why become an entrepreneur?
Many of our panelists are driven by a desire to do things their way in order to achieve something they are passionate about. They see a need that is going unfilled or an opportunity to do something better and/or faster. Some entrepreneurs start simply by looking for an alternate way to do what they do (i.e. freelance), often to discover they enjoy building a business and delivering their core passion on their own terms.
"If you don't build your dream someone else will hire you to help build theirs."
A key mindset shared by our panelists is they built their business to make an impact, not to sell it. Defining or recognizing this intention is important for defining your goals, motivations and success metrics. Building with an aim to sell is not a negative, but one could argue that building to make an impact in an area you are passionate about could be far more inspiring and satisfying.
Ongoing Motivation
While building a business can have a unique set of stressors, our panelists shared some of what keeps them moving, including:
Enjoying the process of learning new things outside their core expertise, like marketing.
The satisfaction of standing behind something, even if it doesn't work knowing they have given it their all.
An inner drive to do things differently, better.
Love for problem-solving, seeking new solutions.
Common Challenges
Overcoming fears was a common challenge shared by our panelists. Fear clouds what you want to do and confidence in how you are going to do it. Fears are often based on false narratives that need to be overcome with knowledge. A fear may exist because there is something you don't know – push past the fear to identify and fill that gap.
Because building and running a business requires entrepreneurs to wear many hats (sales, human resources, project/people management, bookkeeper and more) they often feel uncomfortably pulled in different directions.
Trusting the process can also be difficult. Many entrepreneurs forge ahead building what they think is right or in demand, learning the hard way. Doing due diligence upfront: market analysis, is the demand there, etc. increases the chance of success but that research might not return what you expect. Don't let ego and arrogance cloud your judgment. Some shared being humbled by what they learned when they listened, but it made all the difference. Listen to the market and check back with it regularly!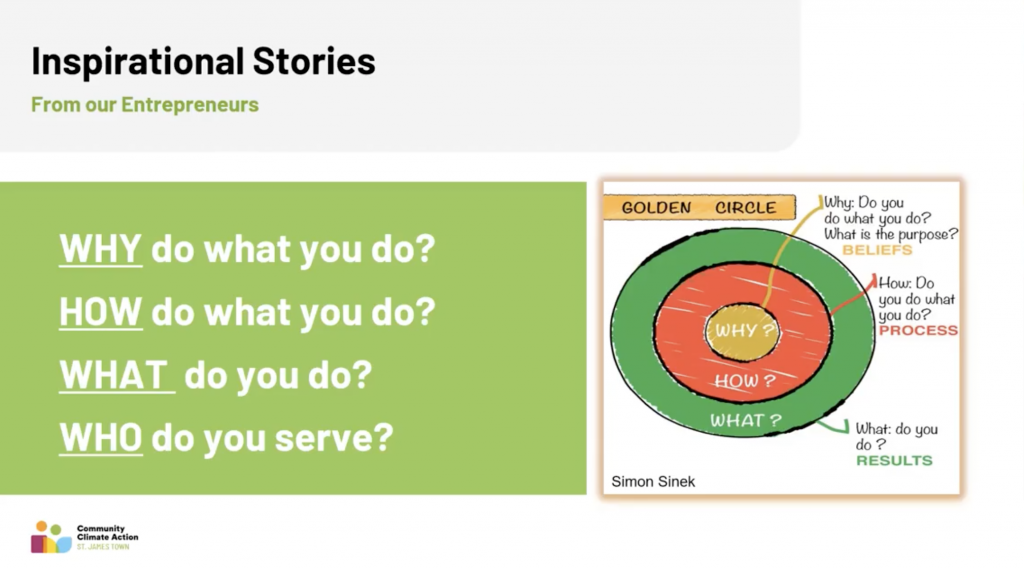 Getting Started
Our panelists were inspired by different purposes, and they dove in. Deciding to take the plunge, they mapped out how to do it, asked who can help (consultants, complementary services, government support) and got a lot of feedback (market research, clients, mentors). You get the ball rolling and relentlessly move it forward.
Defining Success
The definition of failure and success evolves for entrepreneurs over time. Transitioning from the corporate world can mean moving away from goals like getting a promotion/job. Panelists shared they find success in very different ways:
Conquering fears, discovering unknown bravery.
Getting up every morning and pursuing something important to them.
Conducting yourself according to your values.
Inspiring yourself and your team.
Building a business is an ongoing journey. For a start-up, success could be simply completing the website. For a larger company, expanding an important client. Celebrate small and big wins, then keep moving forward.
How do you start?
Entrepreneurs are passionate, self-motivated risk-takers. They are builders by nature and enjoy operating on their own terms. It's not that they are fearless, but they are driven by purpose, something important enough to them to do it anyway.
The top advice from our panel on getting started was to never be afraid to ask for help. Learn from others: peers and experts. Build community and ask for support. "I love what you do, can I shadow you for a day?" People who are motivated by purpose often want to share.
Takeaways
Make fear a motivator, not an inhibitor.
Stay curious and learn from the journey of other people.
Make it a habit of asking questions, be honest about what you need. The path will show itself – don't shut it down from fear. Be authentic.
Seek out resources for entrepreneurs.
Thank you to all our panelists and speakers for sharing lessons from their journeys.